Join Jacquie Hood Martin and J. Hood & Associates for the 2012 Leadership Retreat at Innisbrook Golf & Spa Resort in Tampa, FL May 31 ? June 3, 2012.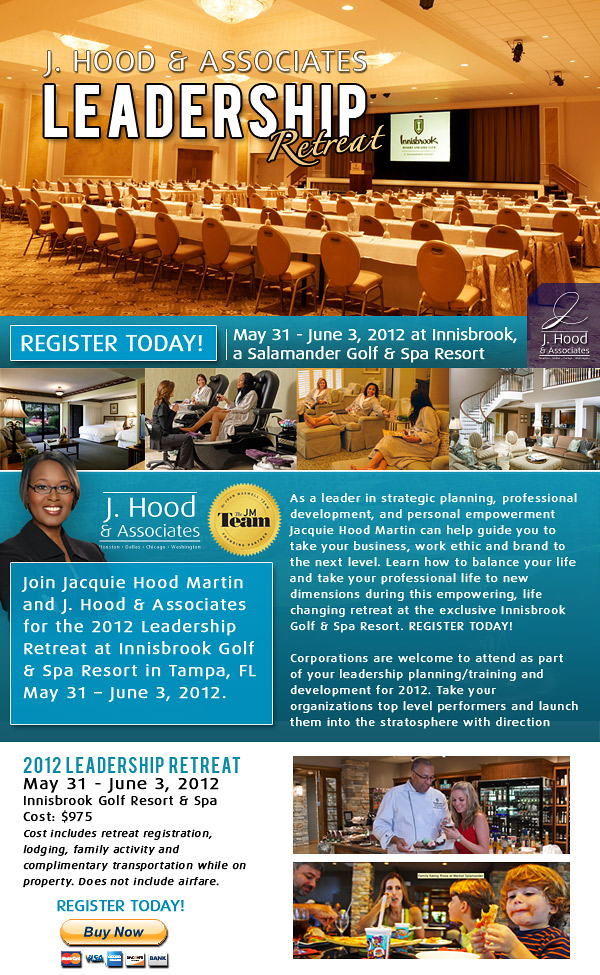 As a leader in strategic planning, professional development, and personal empowerment Jacquie Hood Martin can help guide you to take your business, work ethic and brand to the next level. Learn how to balance your life and take your professional life to new dimensions during this empowering, life changing retreat at the exclusive Innisbrook Golf & Spa Resort. REGISTER TODAY!
Corporations are welcome to attend as part of your leadership planning/training and development for 2012. Take your organizations top level performers and launch them into the stratosphere with direction from J. Hood & Associates.
2012 Leadership Retreat
May 31-June 3, 2012
Innisbrook Golf Resort & Spa
Cost: $975
Cost includes retreat registration, lodging, family activity and complimentary transportation while on property. Does not include airfare. ?
For more information about Innisbrook Golf & Spa Resort visit http://www.innisbrookgolfresort.com/?
REGISTER TODAY for this life changing event!
?
---
DON?T MISS SAILING TO ?EXCEL IN 2012 w/ Jacquie Hood Martin! Early Bird Registration Extended Until December 31, 2012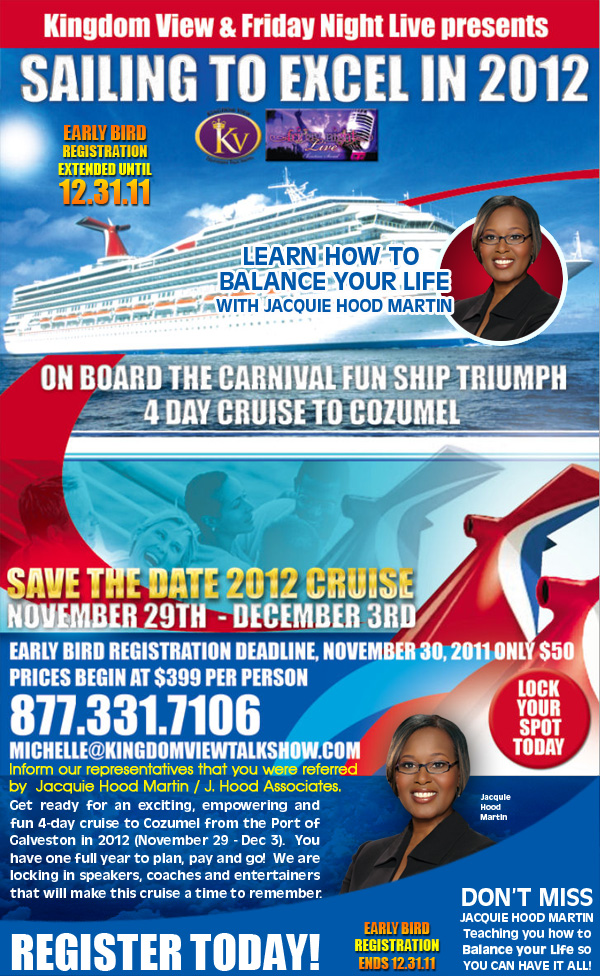 We have some exciting news for you! As you know, Kingdom View is hosting an Empowerment Cruise 2012 and many of you have already responded and locked your spot.
We wanted to secure 150-200 travelers on the cruise and we are happy to report we have over 75 people already confirmed for the cruise. After speaking with Carnival today, of course they are elated for us to host this cruise with them as we all have many choices of cruise lines and timing of taking our family vacation. I shared with them the importance for Kingdom View to keep this event affordable for our attendees to be able to take a much needed get away for a life changing experience. They were in agreement and asked what they could do to assist us in our goal. We asked for it and Carnival delivered! After securing our first 40 cabins and over another 100 people interested in going on the cruise ? We were given an extension on our deposit! December 31, 2011 is the new deposit date. (Glory to God for FAVOR).
REGISTER NOW and Sail to Excel in 2012!
Get ready for an exciting, empowering and fun 4-day cruise to Cozumel from the Port of Galveston in?2012?(November 29 ? Dec 3). ?You have one full year to plan, pay and go! ?We are locking in speakers, coaches and entertainers that will make this cruise a time to remember. ?Pastor Keion Henderson will delivery the Worship on the Water Message for Sunday Morning.
This month, November register for only $50 non-refundable to lock your spot on the cruise. Cruise prices starts at $399. ?It will be a sale out and you don?t want to miss it. ?DECEMBER 31, 2011?is the deadline for the early bird special. ?Payment Schedule (payment plans December 10, June and September ? only 3 easy payments).
We are bringing you the very best of speakers and entertainment, already confirmed for seminars, panel discussion and Kingdom View Television Talk Show:
Pastor Keion Henderson
Jacquie?Hood Martin
Andre Johnson
Elder Kiplon Taylor
Charles Potter and more??.
CLICK ON LINK TO SIGN UP!?REGISTRATION FORM ? ONE PER PERSON?
When you fill out the online registration form enter Jacquie Hood Martin / J. Hood & Associates in the field that asks where you heard about the cruise.
You will receive a call requesting your method of payment. Don?t forget to let them know you learned about this event from Jacquie Hood Martin / J. Hood & Associates.
Cruise 2012 Marketing Team
Source: http://jacquiehood.com/?p=2473
hugo hugo the muppets percy harvin percy harvin best cyber monday deals best cyber monday deals